Dorie has had the privilege of supporting the growth of Radio Flyer since 2004, when the newly articulated Vision, Mission and Values laid the groundwork for an almost 90-year old company to reinvent itself.
Based on the foundation of its values and history, the Chief Wagon Officer, Robert Pasin, established a direction for investment in the people who work at Radio Flyer. Using as a guideline the lessons in Jim Collins' Good to Great, Radio Flyer has built planks that emphasize robust selection of talent, cultivating humble and passionate leaders, Flyer Wheel teams to bring process improvements on a steady basis, increasing two-way communication including Employee Engagement Surveys, 360 Feedback Surveys, and a Goals process involving each member of the team.
2009 saw the launch of "Wagon U," with Dorie serving in the role of Dean.
The excitement continues!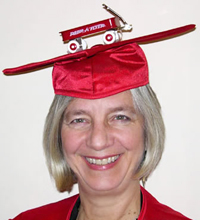 Dorie in her official "Dean
of Wagon U" outfit