"Listen for the movement in her music; make personal meaning of her words; incorporate her messages and melodies into your daily living,
sharing with others who reside within your communities. Her music hides
a treasure chest of jewels to deepen your view of our world and and
awaken your 'soul' to your place in it.

I know...it did mine."

CH
Milwaukee, Wisconsin




"An Oak Park community treasure. Treasure it."
Val of Val's Halla
music store
Oak Park, Illinois




"Her lyrics truly resonate with me. She's easily expresses the essence
of what it means to feel."
JB
Seattle, Washington




"Thanks for the gift. It's inspiring and healing."
JK
Colorado

From the inside cover of Dorie's CD

Received from the Ones Who've Gone Before Us, passed on to our Seedlings in a Storm, we experience Handin' Down the Love. We make Promises, we discover It Takes Courage to follow our callings, we receive the Boomerang effect of our intentions, and we learn to forgive the Sins of the Parents. We honor the stories of everyday women found in Legends and we recognize something timelessly familiar in Angelina's Song. We listen closely to theancient wisdom in Song to the Moon. We are grateful for Gail's Gift of heart, and when faced with choices, we commit to Do What She Would Do. We start This Day with a request to Gimme the Light, and a belief that there is No Way to Stop This Miracle. We know that our deepest hopes for ourselves, our loved ones, and our world, require that we Keep the Faith.
Song Words

1. Boomerang(3:00)

2. Handin' Down the Love(3:08)

3. Seedlings in a Storm(4:48)

4. This Day(2:55)

5. Angelina's Song(5:33)

6. Legends(4:28)

7. Song to the Moon(3:55)

8. Sins of the Parents(4:32)

9. Do What She Would Do(3:29)

10. Promises(3:59)

11. It Takes Courage(3:34)

12. Gail's Gift(3:33)

13. Ones Who've Gone Before Us(5:40)

14. No Way To Stop This Miracle(3:06)

15. Keep the Faith(3:38)

16. Gimme the Light(2:46)

ALL SONGS (16)




"Handin' Down
the Love"

Available from


Singer for all seasons.
---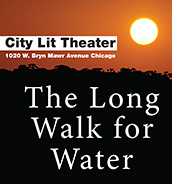 The Long Walk for Water
Four things are desperately needed in South Sudan—peace, clean water, education, and health care. Jerry Miller is helping through his productions. Miller adapted the play from Linda Sue Park's book A Long Walk to Water, about two children from South Sudan who belong to opposing warring tribes and whose life stories reflect the struggles and challenges of the newly-formed nation.
The play utilizes original music and lyrics by Dorie Elizey Blesoff.
A performance at City Lit Theater in Chicago raised funds for women's literacy projects at newly-built wells in South Sudan.